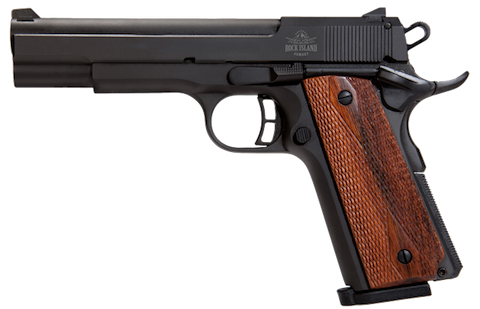 Pahrump, NV (January 14, 2014) – Rock Island Armory today announces the expansion of the company's GI and XT Series of pistols built on the 1911 platform. The new offerings are aimed at the rapid growth of gun owners who are looking for concealed carry options as well as the addition of .40 S&W and .22 magnum caliber options.
"We continually work to increase the value and options in our most popular pistols and adding the new features plus chambering options are a great example of that commitment," said Martin Tuason, President of Rock Island Armory and Armscor Precision International. "Our GI series of 1911's are some of the most popular in the world and these new options will bring gun owners even more options to fit their own particular preferences."
New to the GI Series is the addition of a High Capacity .45acp 13 round clip fitted for the classic 1911 platform.
The XT Series adds a .22 Magnum caliber option as well as a top rail to accommodate popular accessories and also sports a brand new Bull Barrel.
The new GI and XT Series pistols are covered by Rock Island Armory's lifetime warranty and support.
For more information about the new Rock Island Armory pistols visit the Armscor and Rock Island Armory website atwww.rockislandarmory.com.