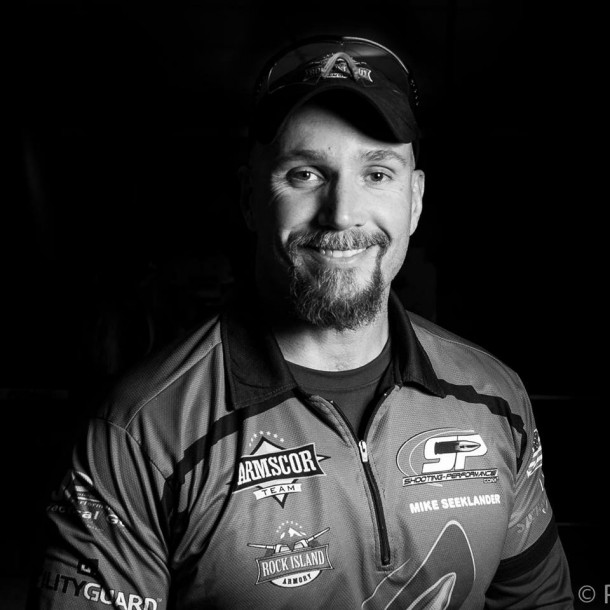 Pahrump, NV (December 9, 2013) – Team Armscor's Mike Seeklander outshot the competition in the International Defensive Pistol Association Back Up Gun Nationals held in Springfield, Massachusetts. Seeklander used his personal Rock Island Armory compact 1911 during the match.
The three-day championship event is designed for competitors to operate the firearms they use for concealed carry and personal self-defense through five rounds of 13 simulated "real world" self-defense scenarios including low light and no light situations.
"What I liked best about the competition is that we used our real deal carry guns and holsters with no bells or whistles," said Mike Seeklander. "The match is front site intensive and really pushes you to put your best self-defense marksmanship and manipulation skills to the test."
The win should come as no surprise as the ever popular Seeklander is one of the most recognized self-defense and competitive shooting trainers in the country with his company Shooting-Performance.
"The IDPA does a great job with this match and has really pushed this competition to all levels worldwide," commented Seeklander. "For people who are serious about tactical self-defense training, getting involved with the IDPA is a great way to get better and sharpen your skills."
Adding to the challenge, Seeklander was wearing a live microphone and being video taped in action for an upcoming episode on the Shooting Gallery show to air in February of 2014.
Commenting on Mike's win, Armscor and Rock Island Armory CEO Martin Tuason said, "Mike is a tremendous ambassador for Armscor and Rock Island Armory and everyone who takes the sport of shooting and the practice of self defense, we're extremely proud to have him on our team."