Make a Bang on Range Day: 10mm 1911s and Target Shooting
Posted by Team Armscor on Jun 5, 2020 4 Minute Read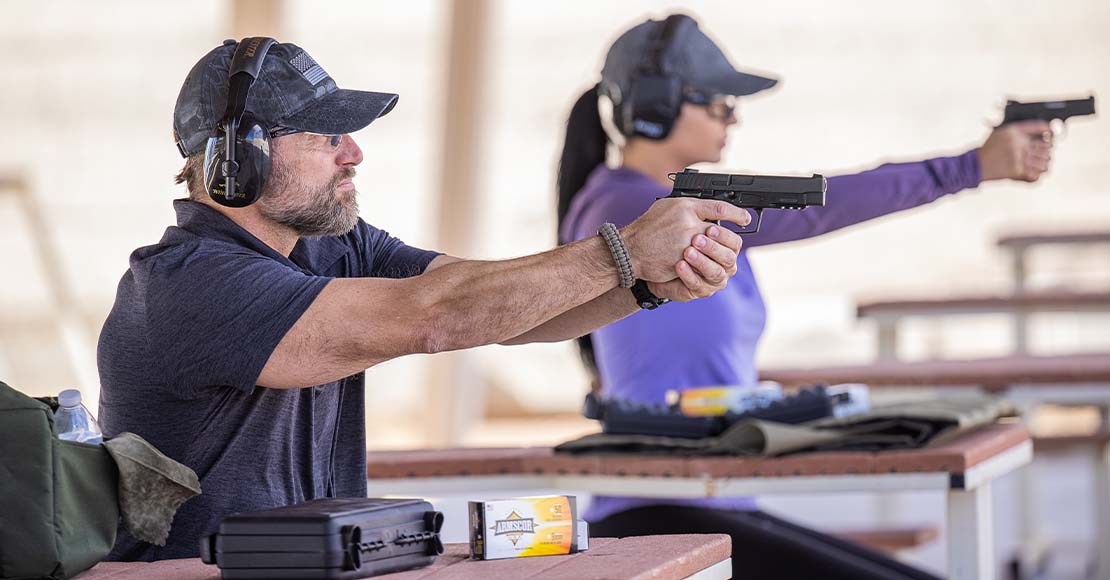 If you're a seasoned target shooter, going to the gun range for the day can be a fun and gratifying experience. There's plenty of skills to practice at the range. Reloading, precision, target acquisition, speed… the list goes on and on.
If you're truly dedicated to becoming a shooter, changing out your firearm's caliber can help you become a more well-rounded shot. And that's why taking 10mm ammo to the gun range can be beneficial and extremely fun at the same time. If you're looking to add a little more thrill to your range day, look no further.
Here's how you can make a bang with 1911s and 10mm at the range.
10MM Characteristics
10mm has characteristics that differ from the more popular and readily available 9mm round. They include:
Longer Distance
Faster Velocity
Higher Muzzle Energy
Because the 10mm have a higher speed, fired bullets are going to has a less-curved flight path. This is something that in the long run will be beneficial but may take time to get used to. Gun handling and precision are skills that are easily lost. These abilities need to be rehearsed and practiced or they will become weak and nonexistent. Just like any skill, muscle memory needs to be formed over time. If you're new to firing 10mm, be sure to keep at it and create that new muscle memory.
1911 Product Highlight
The 1911 is an American classic. Its military and civilian roots run deep within shooting history. Combining the 1911 with the 10mm, which was once considered a novel round, makes for a powerful pair. Nowadays, more and more 10mm chambered handguns and 10mm ammunition are being manufactured. The recent availability of both 10mm handguns and ammunition is sure to pique any shooters' interest.
TAC Ultra
The TAC Ultra is the perfect 1911 for shooters wanting to experience both tactical and classic operations. It includes ambidextrous extended safety and controls with G10 tactical grips with superb handling. This 1911 is hand fitted and refined for any type of shooter for a smooth and powerful shot. The TAC Ultra comes in both mid-size and full-size barrel lengths, capable of concealed carrying and maximum bullet velocity. And for an extra kick, the TAC Ultra includes a picatinny rail for any type of tactical addition. Recently, the 10mm has gained popularity and praise as a range day round. Test out this powerful pair with the TAC Ultra and see for yourself.
10mm at the Range
You'll come to quickly realize what a huge punch the 10mm can throw. Shooters are going to be impressed by its long-range pistol distance and power. To state it simply… the 10mm is a heck of a lot of fun to shoot. Firearm enthusiasts are sure to enjoy 10mm's punch within a classic style 1911 firearm.
At the range, there are plenty of drills and fun to be had with the 10mm. Working with your weapon is going to help you better understand its capabilities. Here are some drills to practice in order to help you with this round:
Target to target: Picking multiple targets and shooting at them in succession.
Precision: Find out how close to that bullseye you can get.
Perfecting your draw: Getting a quick draw is important, especially in self-defense.
Fast Fire: Shooting as quickly as possible on a target.

Here are just some of the things you can do to make a bang at the shooting range with 10mm. For more information on 10mm ammunition, visit here.