Rock Island Armory RIA TCM TAC Ultra MS HC Combo: An In-Depth Review
Posted by Team Armscor on Jul 20, 2023 4 Minute Read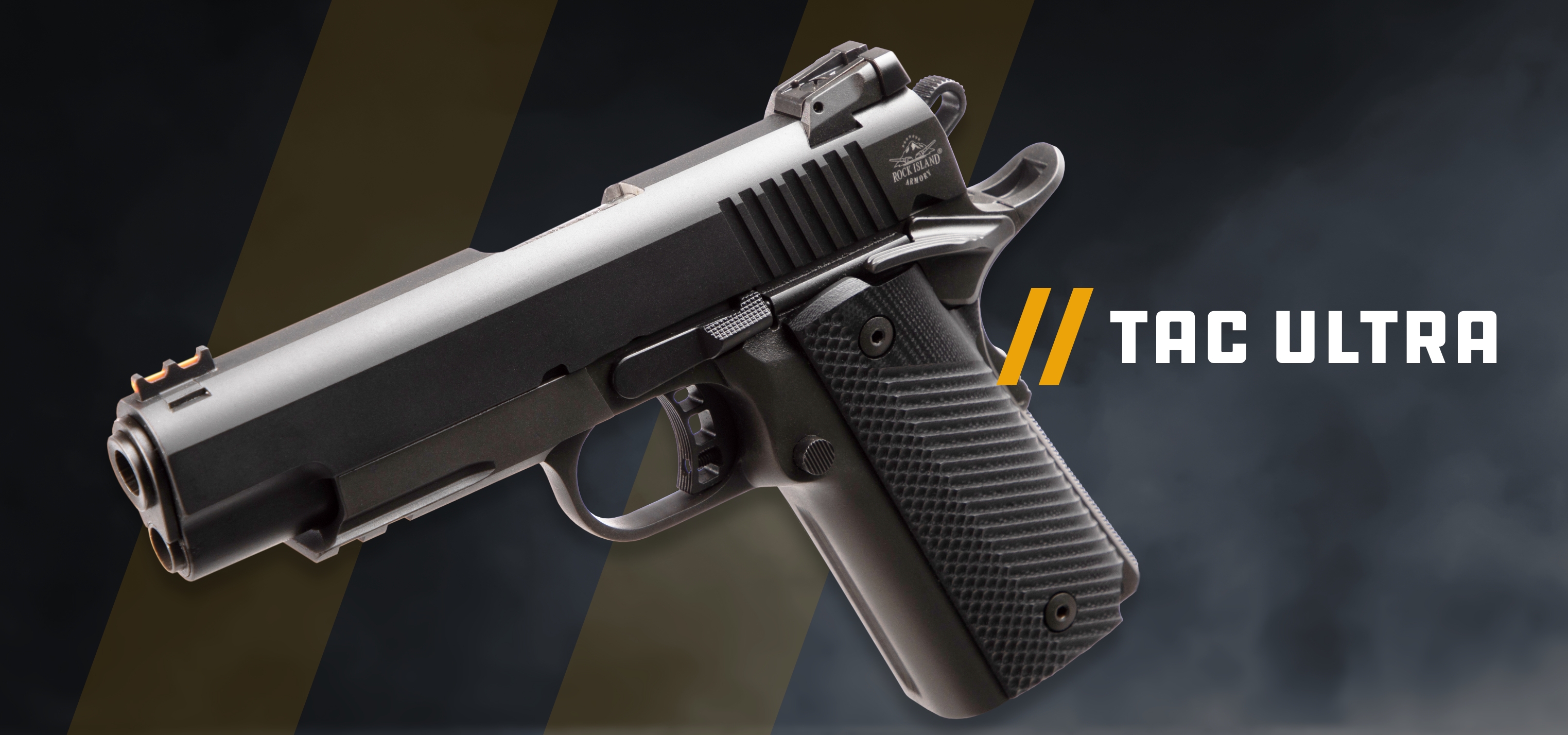 The world is full of awesome combos: Sonny & Cher. Peanut-Butter & Jelly. Mike & Ike. Rock Island Armory & Armscor. You get the picture. When you hear the word "combo" you know you're getting the best of both worlds – especially from RIA-Armscor. We combine the best aspects of two great calibers, so you've got your choice of barrel.
Enter, the TCM/TAC Ultra MS HC Combo.
When it comes to your go-to tactical firearm, don't limit yourself. Take your pick and shoot with confidence. We're breaking down the TCM/TAC Ultra MS HC and why when it comes to picking a combo, there's only one choice.
Caliber & Capacity

When it comes to packing a powerful caliber, the TCM TAC Ultra boasts two options:
9mm
22TCM – an RIA favorite.
It's a robust piece of hardware that offers flexibility for any tactical shooter. One of its most significant advantages is its sizable capacity at 17+1 rounds (thanks to a hefty double-stack magazine). This is rare in the realm of 1911s, giving you enough extra room to spend less time reloading and more time focusing on your aim.
The Sights
Thanks to its fixed, low-profile sights, the TCM TAC Ultra is perfect for the tactical shooter looking for some power. If you're after velocity and payload that counts, this is the pistol for you.
The front sights are mounted and dovetail-cut with red fiber optics that are easy to pick up, with easily adjustable rear sights.
Size & Grips
The TCM TAC Ultra's grip comes at a sizable 36mm x 52-59mm (width x depth). Compare that to a 31mm x 54-58mm on a Glock 19 or a 31mm x 52-59mm on a Glock 17. It's got a little extra girth, but just enough to support all the extra firepower. It's designed to bring penetrating impact with light recoil. As a whole, it measures 8 inches in length and 5.5 inches in height. It's surprisingly light for a pistol that weighs 2.5 lbs unloaded.
It comes with G10 grips that are resilient and provides consistent comfortability no matter how much your fire your payload. Add that to a solidly parkerized frame and slide, and you have a firearm with reduced glare and tactical precision.
The Barrel
You've probably already noticed the TCM TAC Ultra's six-grooved 4.25-inch barrel. It's CNC-angled and offers full-length adjustability under a picatinny rail. Throw one on a 9mm accessory barrel for even more versatility in your barrel. Not to mention, the 22TCM slide is easy to rack. Its checkered slide release makes it easy to manipulate.
A Winning Combination

The TCM TAC Ultra Combo grants you two excellent caliber options, with easy-to-grasp, adjustable sights, a hefty frame that fits just right, with a double-stack magazine to boot. With this firearm, you've got a winner on your hands.
The cherry on top? you can get all of this at a great price: $960. Fill your holster with a pistol that has everything you need and holds up to the test of time.