1911 Pistol Face-Off: Rock vs TAC
Posted by Team Armscor on Apr 6, 2023 4 Minute Read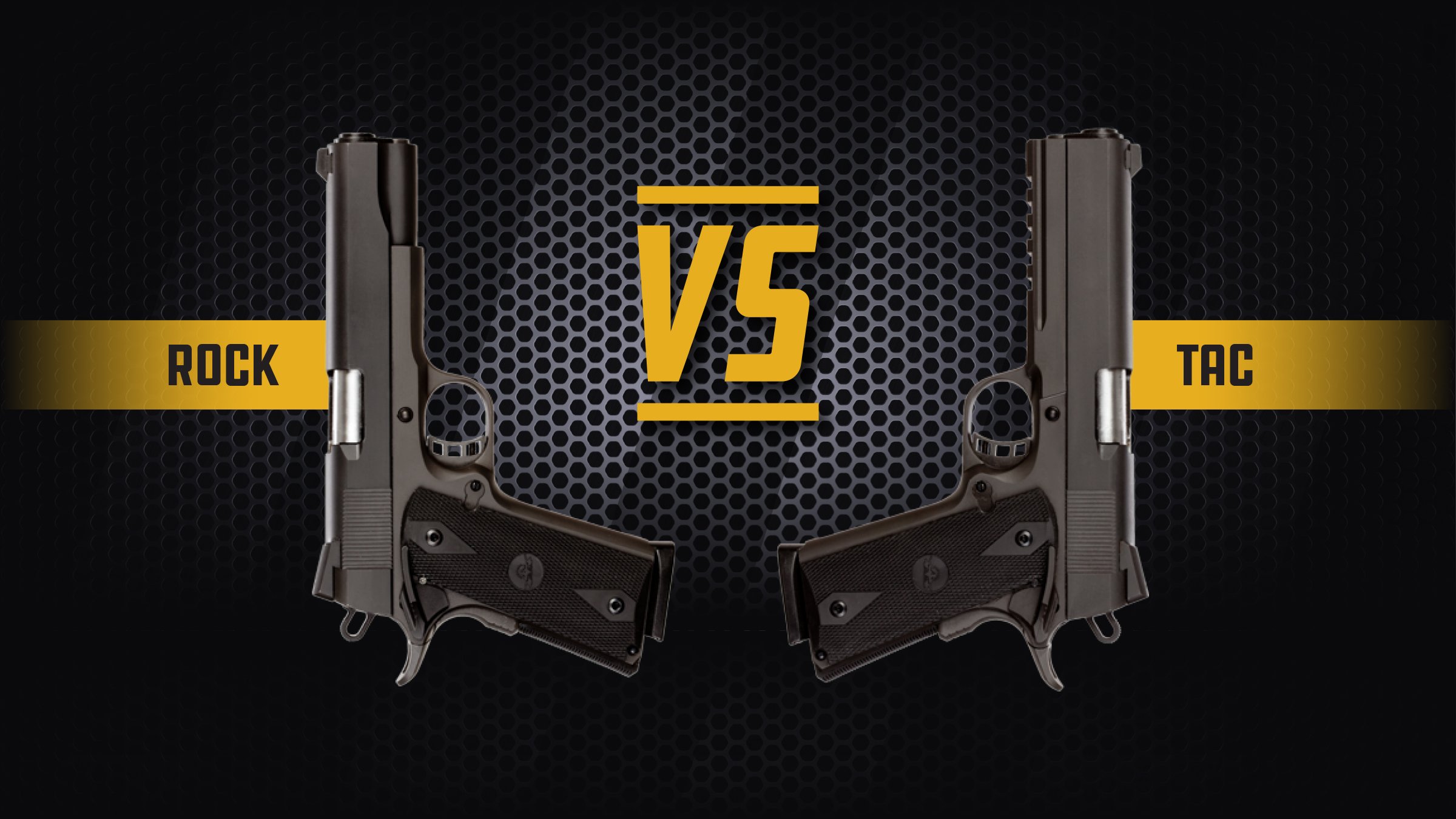 Now that you have a better understanding of the differences between the GI line, the Standard line and the Ultra line, let's talk about the difference between Rock versus TAC.
SOLID AS A ROCK 1911

Whenever you see the word "ROCK" in the name of any of our line of pistols, what we are telling you is that the frame of that particular firearm is going to have the standard 1911-looking dust cover. That clean classic 1911 look that we all know and love – but with a few special perks like rubber grips and a skeletonized trigger/hammer, yet it retains a single-stack capacity. Plus, there's no extra weight, size or excess material for you to carry around all day long. Those that just want a classic, clean-looking 1911 will be pointed toward the rock line of pistols.
GETTING TAC-TICAL WITH YOUR 1911 PISTOL
If you were in the market for a pistol that can mount a weapon light, laser, fog machine or disco ball, then you are going to be interested in the tech line of pistols.

When you see the word "TAC" in the title of our firearms, that is to let you know that this pistol will have the ability to add tactical attachments to the firearm. To add attachments to a pistol you have to have a standard rail system for lights and laser attachments that the TAC line series of pistols have. You'll also get the benefit of added weight to the end of the gun to help reduce the muzzle flip and felt recoil. The TAC model also carries through the skeletonized trigger/hammer, which adds wider and deeper front and rear serrations for easier slide manipulation. On top of that, a new addition is fiber optic front sights.
And, not to mention, it just looks cool.
A 1911 FIREARM THAT FITS
If you were looking for a 1911 based only on the lowest price possible then you would be looking for the GI line of pistols. If you wanted something that was a little more modern and had the ability to mount a Streamlight or Surefire weapon light but didn't really care about a lot of additional upgrades, then you would be looking for a TAC Standard. Maybe you want to have all the nice upgrades, but you don't particularly care about the tactical look, then you would look for a Rock Ultra.
To learn more about home defense and concealed carry – including recommended ammo types and training tactics, visit our home-defense page.