4 GI Series Pistols Worth Investing In
Posted by Team Armscor on Jun 20, 2017 5 Minute Read

The iconic 1911 pistol has developed from a simple, rugged tool for soldiers into an often flashy, customized item commanding high asking prices. The Rock Island GI Series takes the 1911 back to its roots. Forget the accessory rails, engravings and gold beaded sights.
Do you need a functional tool you can invest time and money in while leaving some budget left over for ammo (so you can actually shoot the gun you just bought)? Then consider one of the following GI Series pistols.
No matter your purpose, you can't go wrong with a good ol' full-sized 1911 pistol. For those with a more original taste, you can get it in 45ACP. Or if you want an extra round, go for the 9mm. You can also grab one in a duracoat finish.
Regardless of which caliber you choose, finding ammo won't be an issue. Need help deciding if 45ACP is right for you? Check out this blog.
You probably know that guns are loud. However, if you live in a state that allows ownership of suppressors, then you might want to consider saving up to get into the world of quieter shooting. Check out this map from SilencerCo to see if suppressors are legal in your state. (Elk symbols indicate legality for hunting.)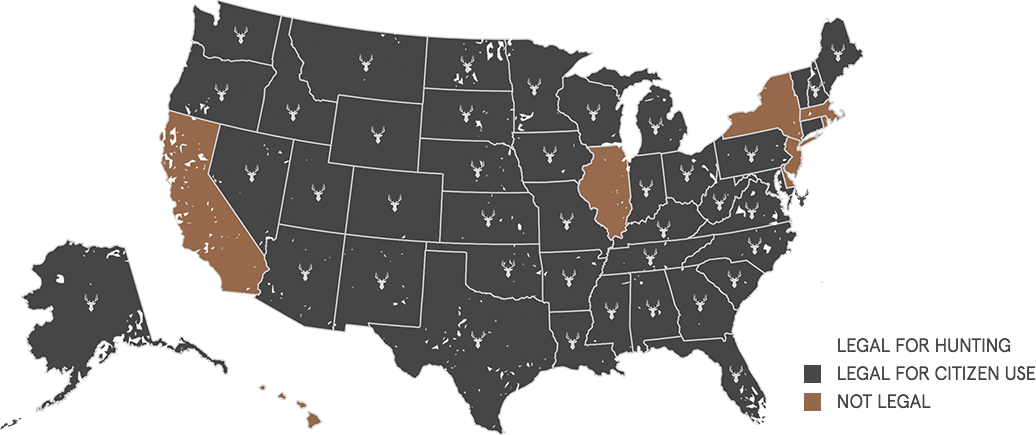 While the suppressor and NFA tax stamp may cost you a pretty penny, the deal you're getting on this pistol will help ease you into the long-term investment.
Yes, yes - the original 1911 wasn't a compact, but with the ever-rising popularity of concealed carry and the slim, reliable design of the 1911 handgun, the two are a perfect match. In fact there are more than 14.5 million concealed handgun permits, a 215 percent increase since 2007.
This compact GI model has a 3.5" barrel and a seven-round capacity in 45ACP. Worried about the capacity? Carry another magazine. A seven-round single-stack magazine can be easily concealed in the pocket of your pants or jacket.
(Also, Californians - listen up: This one meets your state's compliance laws!)
Having double digits in the capacity department is highly desirable. Many polymer pistols offer capacities well into the teens and even in compact varieties. While you won't get those numbers from a 1911 pistol, you can snag that second digit with this model and avoid the heft of pistols like the HK USP or Sig Sauer P226. On top of that, you'll save yourself a few hundred dollars.
Explore the Featured Products in Our Blog
The 1911 pistol has evolved from its humble origins as a reliable and durable weapon for soldiers to a highly sought-after, often extravagant item with steep price tags. However, the Rock Island GI Series aims to return the 1911 to its fundamental essence. Leave behind the accessory rails, intricate engravings, and extravagant gold beaded sights.