Three Big Things to Consider When Thinking about Concealed Carry
Posted by Team Armscor on Jun 16, 2022 8 Minute Read
Whether you're a seasoned or first-time gun owner, you've probably heard a lot of debate over concealed vs open carry. It's one of the most heated debates amongst gun owners, and which method you prefer can greatly impact how you prepare for defensive gun use.
You have a lot of factors to consider when deciding on whether concealed carry is right for you—and many states require an additional permit for the privilege. We're here to help you think through some of these considerations as you decide on the best option for you.
First, let's talk through some things you should weigh about concealed carry in and of itself.
IS IT RIGHT FOR ME?
ATTENTION
An openly carried firearm attracts more attention than a concealed firearm. Concealed carry may save you the heartburn of being unfairly reported to authorities.
ACCESS
While those who opt to conceal their firearms can practice techniques to limit their draw time, it will generally be faster to draw from an open carry holster.
COMFORT & CONVENIENCE
When considering open vs concealed carry, you'll want to take your comfort and convenience preferences into consideration. While many believe that carrying concealed offers a tactical advantage over open carry, it can be uncomfortable. Inside the waistband (IWB) concealed carry holsters often position the gun or holster directly against the shooter's skin.
LEGAL RESTRICTIONS
The final—and perhaps most important—consideration for gun owners is what legal restrictions their state has on their right to carry a firearm in public. Some states have constitutional carry, which refers to legally carrying a handgun without a license or permit, while other states require permits or otherwise place restrictions on who can carry a handgun as well as how they can carry it. To find out the laws in your state, visit the Gun Laws by State page on the NRA Carry Guard website.
CHECK YOUR STATE'S LAWS
State laws on the process for obtaining a concealed carry permit vary and, in some cases, quite significantly. Obtaining a permit in New Jersey, for example, is a more laborious process than getting one in Alaska, where concealed carry doesn't require a permit. Do a little prep work beforehand, and develop a checklist of what you need to do. You'll save yourself some work.
SHALL ISSUE—MAY ISSUE—CONSTITUTIONAL CARRY
Another important item to look into is whether your state is a "shall issue" or "may issue" state. In a "shall issue" state, as long you meet the permit requirements, the issuer must give you a permit. Whereas in a "may issue" state, even if you meet the requirements, the issuing authority is not required to give you a permit. These states also typically require applicants to give a written reason on why they should receive permits.
States such as Alaska and Missouri don't require residents to have a permit to carry concealed—this is commonly referred to as "constitutional carry." If you plan on visiting one of these states, you should still check if authorities require a permit for out-of-state visitors.
Currently, the following states do not require a permit for concealed carry:
Alaska
Arizona
Idaho
Kansas
Maine
Mississippi
Missouri
New Hampshire
North Dakota
Oklahoma
Vermont
West Virginia
MEET GENERAL REQUIREMENTS
Generally speaking, in order to qualify for a permit, you must be a U.S. citizen or resident of the permit-issuing state (but not in all cases). If you have a prior felony conviction or are under indictment for a felony, you won't be eligible. Having a mental illness is also a disqualifier. Essentially, if you can pass a background check, you're all clear.
PREPARE FOR A CLASS
In the event you need to take a class, it's best to come prepared. You may engage in some shooting in the class, so bring eye and ear protection and know proper gun safety rules of thumb. Even though you'll likely go over these rules in the class, there's nothing wrong with coming prepared. It's also wise to know proper range etiquette and how to maintain a pistol before you attend a training class.
RECIPROCITY
As a gun owner, it's your responsibility to understand the gun laws that exist in your state. If you intend to carry concealed, knowing your state's concealed carry laws and the reciprocity your state's right to carry has in other states is a crucial part of that responsibility. Concealed carry reciprocity is the idea that, if you are legally able to carry concealed in one state, that right may be extended to other states.
Click below to learn the laws in your state.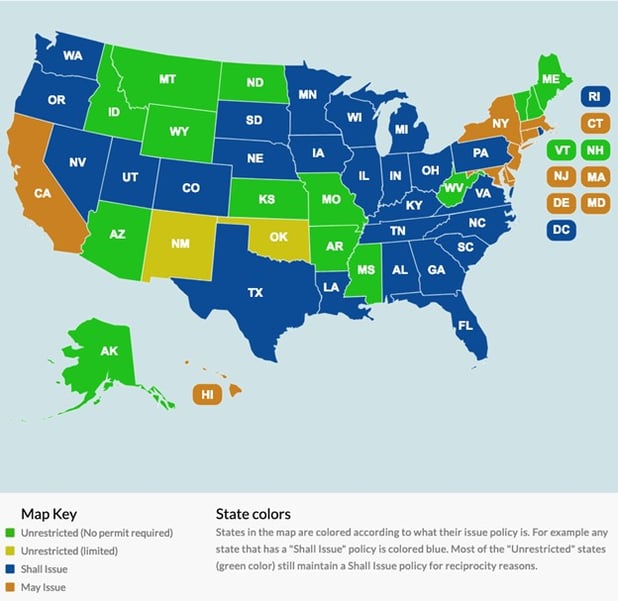 CONCEALED CARRY INSURANCE
It can be surprisingly difficult to find reliable information on the purpose and application of concealed carry insurance. That's why we did the research and came up with three key elements of concealed carry insurance that you should take into consideration when making your decision.
IT PROTECTS YOU WHEN YOU PROTECT YOURSELF
Concealed carry insurance protects gun owners from massive unexpected expenses as the result of civil proceedings following their use of a firearm for self-defense. Our country is notoriously litigious when it comes to defensive gun use and, without the proper protections in place, using your gun legally and defensively can still land you in deep financial trouble.
IT COMES IN DIFFERENT FORMS
There are a few different types of concealed carry insurance, and each one comes with its own set of costs, benefits, and applications. Check out a few of the most popular forms of concealed carry protection below:

WHERE YOU LIVE MATTERS
It's important to check your local laws as well as the laws of any state you may be carrying in. If your state protects you from civil lawsuits, then concealed carry insurance may not be necessary for you. However, if you live in a state that does not offer these protections, you could face tens, if not hundreds of thousands of dollars in legal fees that could potentially be avoided through concealed carry insurance.
The choices you make about how and where you carry and use your firearms are big ones. They can impact your safety, the safety of those around you, and your legal exposure. Make sure you get familiar with the laws in your area and get comfortable with your firearm before carrying it in public.