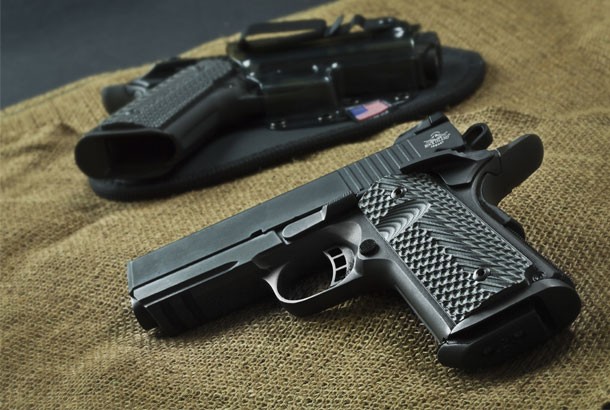 November 11th, 2014 (Las Vegas, NV) - International 1911 pistol manufacturer, Rock Island Armory today reveals two new TAC Ultra Compact pistols and plans for US consumer availability before the end of 2014.
The new additions include:
• TAC Ultra CS - .45 ACP (7 rounds)
• TAC Ultra CS - 9mm (8 rounds)
Both compact pistols are designed for concealed carry and are available for under $760 suggested retail.
"We're listening to what our customers have to say," said Martin Tuason, CEO and President of Armscor / Rock Island Armory.
"People want our TAC Ultra Models in a more concealable format and we're very excited to bring them to the US market at an affordable price."
The Rock Island Armory TAC Series was first revealed in 2010 as a 100-year celebration of the 1911 platform. The series is best known for its full picatinny tactical rail and dust cover along with an ambidextrous safety, combat hammer and extended beavertail for optimal recoil control.
Units will begin shipping to major US distributors including United Sporting Companies, AcuSport, Davidsons, Zanders Sporting Goods, Bill Hicks, Big Rock Sports, RSR, Williams Shooters Supply and Lipsey's for dealers to make available to consumers.
The new TAC Ultra Compact pistols are already being recognized as viable self-defense and competition options. The pistols were recently used by world-class competitive shooters KC Eucibio and Team Armscor's Mike Seeklander in the recent IDPA Backup Gun Nationals in which Seeklander took first place for the second year in a row.
###